The Right Tool For The Job
Divi-Modules – Table Maker and TablePress Styler are both great tools for creating tables in the Divi Builder, but which one is right for you? Use the information below to compare the features of these amazing products and find the right tool for your next project.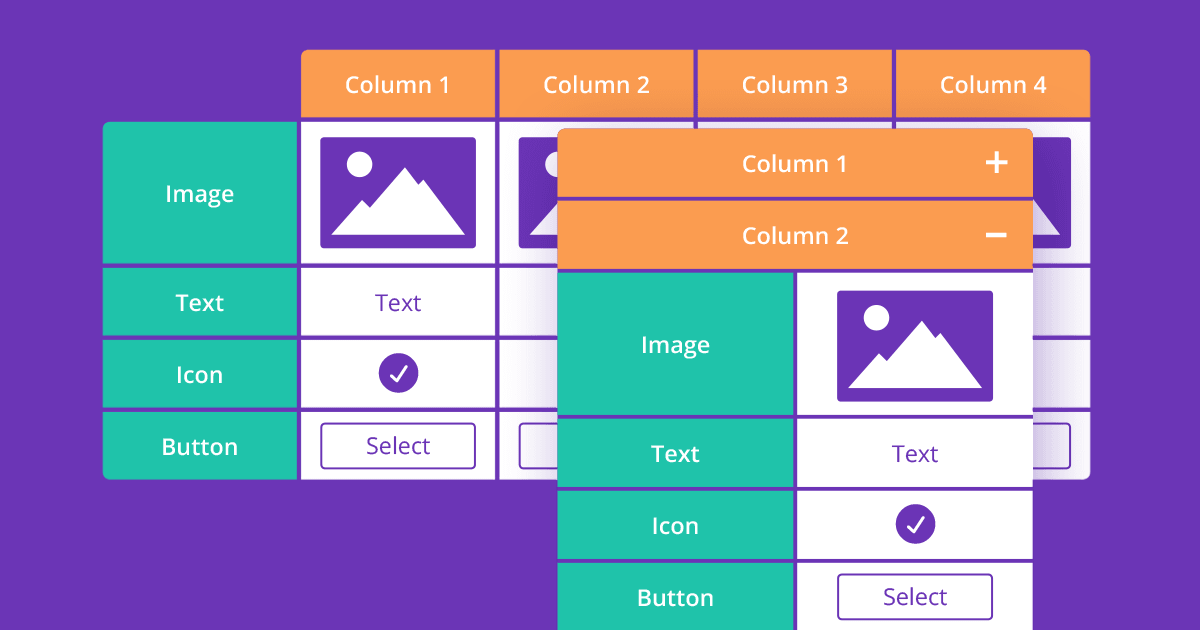 Table Maker
Ideal for display-style tables, such as comparison tables and product feature lists. Perfect for tables with minimal data where responsiveness and presentation are important. Tables are built and styled directly within the Divi Builder.
Table Maker
Build tables in the Divi Builder
Build tables in TablePress
Configure table settings in the Divi Builder
Style tables in the Divi Builder
TablePress Styler
Build tables in the Divi Builder
Build tables in TablePress
Configure table settings in the Divi Builder
Style tables in the Divi Builder
Table Maker
Enter data manually
Import data from CSV, HTML, JSON and XSL
Hide columns and rows
Sort rows by reverse, random, column and manual order
Filter rows by search term(s)
TablePress Styler
Enter data manually
Import data from CSV, HTML, JSON and XSL
Hide columns and rows
Sort rows by reverse, random, column and manual order
Filter rows by search term(s)
Table Maker
Enable table name and description
Enable column headers and footers
Enable row headers
Enable row footers
Enable multiple headers and footers
Enable column and row spanning
Set column widths
Set row height
TablePress Styler
Enable table name and description
Enable column headers and footers
Enable row headers
Enable row footers
Enable multiple headers and footers
Enable column and row spanning
Set column widths
Set row height
Table Maker
Users can sort, search and filter table data
Users can copy and print table data
Users can export tables as CSV, Excel or PDF
TablePress Styler
Users can sort, search and filter table data
Users can copy and print table data
Users can export tables as CSV, Excel or PDF
Table Maker
Include text
Include icons
Include buttons
Include images
Include shortcodes
TablePress Styler
Include text
Include icons
Include buttons
Include images
Include shortcodes
Table Maker
Fixed header(s)
Fixed footer(s)
Fixed left and right columns
Table scrolling
Stack tables by columns
Stack tables by rows
Display table as accordion
Flip columns and rows
Collapse hidden columns
TablePress Styler
Fixed header(s)
Fixed footer(s)
Fixed left and right columns
Table scrolling
Stack tables by columns
Stack tables by rows
Display table as accordion
Flip columns and rows
Collapse hidden columns
Table Maker
Style table body
Style table header(s)
Style table footer(s)
Style individual table columns
Style individual table rows
TablePress Styler
Style table body
Style table header(s)
Style table footer(s)
Style individual table columns
Style individual table rows
Table Maker
Set border color, width and style
Set column and row gaps
Set alternating row color
Set hover row color
TablePress Styler
Set border color, width and style
Set column and row gaps
Set alternating row color
Set hover row color
Table Maker
Set cell background color
Set cell vertical and horizontal alignment
Set cell padding
Set cell border color, width and style
Set cell rounded corners
TablePress Styler
Set cell background color
Set cell vertical and horizontal alignment
Set cell padding
Set cell border color, width and style
Set cell rounded corners
Table Maker
Set font, font weight and font style
Set text color and size
Set letter spacing and line height
Set text shadow
TablePress Styler
Set font, font weight and font style
Set text color and size
Set letter spacing and line height
Set text shadow